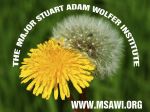 Why is the Dandelion MSAWI's logo?

Some call the dandelion plant a weed,
but our family calls it a flower.
WHY you ask?

When its yellow flower has finished blooming,
it does not simply shrivel up and fall to the earth—
but rather turns white and when you blow it,
the seeds scatter over the earth to begin anew.

We believe that like the dandelion,
Stuart's (z'l) being…
his energy for life, for people, and the earth will continue to touch those of us who learn about him and his ways.

Our family will not allow Stuart's voice to be silenced.
The Major Stuart Adam Wolfer Institute (MSAWI) will allow his legacy to continue to live on, and to inspire future generations of children, adults & leaders.

MSAWI is our way of honoring Stuart's memory and of supporting our Troops who selflessly defend our freedoms.