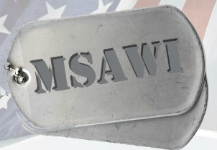 POSTPONED
11th ANNIVERSARY SUPPORT OUR TROOPS DAY
Sunday, May 3, 2020
Report for Duty: 1-4pm
Congregation Ramath Orah, 550 West 110th St. NYC
(between Broadway & Amsterdam)


With our hearts & minds focused on COVID-19, we are reminded of the importance of good health & keeping our community safe.

Due to the "SAFER AT HOME" directives Support Our Troops Day for May 3rd is postponed.

Amidst this crisis, we will continue to support our Troops who remain in harms way.

We will still send our 1,500 care packages this year, it is NOT an IF, its ONLY a WHEN.
It's a day to show the Troops we care!
Help us make 1,500 care packages for our Troops & homeless Veterans
Workout in the boot camp.
Be inspired in our Military Academy.

*All contributions of $100 or more will be recognized in the program.


Complimentary admission for Veterans, Active Duty Personnel, Reservists, National Guard, Gold Stars & their families.

Contributions go directly toward care package content & postage. MSAWI is an all volunteer organization!

~~~~~~~~~~~~~~~~
SUPPORT-OUR-TROOPS DAY
Attended by over 400 people who wanted to show our Troops they care!

Excerpt from Thank You note received from Afghanistan:


Thank you very much for the great care packages that your organization sent. I sincerely appreciate the time, effort, and support that was expended on our behalf. The contents of the packages were shared with other soldiers who were extremely happy to know that others are thinking of them. I myself am extremely grateful for your continued support and appreciate all that you do.

Pictures from Event!